The 2021 Subaru Love Promise Community Commitment Award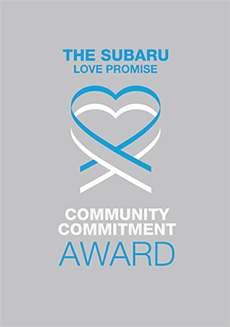 We've been nationally recognized for our dedication to our community and the Subaru Love Promise.
We're honored to receive the 2021 Subaru Love Promise Community Commitment Award. This award nationally recognizes Subaru retailers who are making the world a better place while demonstrating an outstanding commitment to supporting passions and causes in local communities. These efforts are focused in important areas such as the environment, community, health, education, and pets.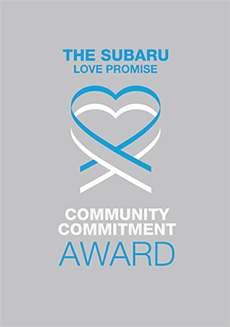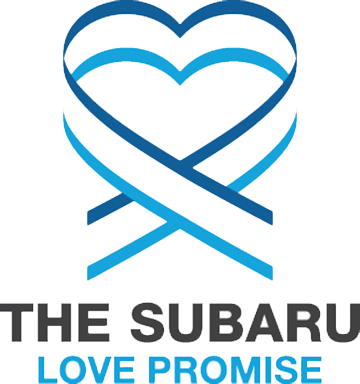 What is the Subaru Love Promise?
Subaru and our retailers believe in making the world a better place and the Subaru Love Promise is our vision of respecting all people. This is our commitment to show love and respect to our customers and to work to make a positive impact in the world.
How is Ferguson Subaru dedicated locally to the Love Promise?
Our Love Promise can be seen in various partnerships with local charities and non-profits. We're grateful for the opportunity, not only to be a part of our community, but to serve it as well.
Tulsa SPCA, Tulsa Boxer Rescue, Guide Dogs for the Blind, Lone Star Guide Dog Raisers
Linnaeus Teaching Garden, Friends of Blue Thumb
Claremont Elementary, Kendall-Whittier Elementary,
Meals on Wheels of Metro Tulsa, American Red Cross, Amazing Athletes,
The Leukemia & Lymphoma Society, Hope Is Alive
Love Promise Stories from Ferguson Subaru
Subaru and Ferguson Subaru believe in making a positive impact on the communities in which we live and work. We uphold that belief through our Love Promise Community Commitment. Every month, we select inspiring stories from customers and partners from around our area who strive to support our collective commitment and feature them here
Helping teachers help our community. - Reid H
Malek Bourmaf from Subaru reached out to me last week wanting to schedule a time to bring school supplies to one of my teachers. He shared with me how he was touched by a family and their story when purchasing a Subaru from him the previous week. A young couple came into the dealership wanting to buy a car. They've been sharing a car for 3 years and were in desperate need of a vehicle with school approaching. The car they were wanting was already sold, but Malek helped them get a vehicle. Malek mentioned just how kind and sweet the couple was during the entire process. He was personally thinking of someone to give back to this month and this teacher was the perfect person to do so. Subaru has an initiative this month call Subaru Loves Learning. Subaru ended up donating $342 of supplies for his classroom. This teacher loves his family and his students and with this donation and his new car he can be even more focused on teaching. Thank you Subaru for your support.
---
Ferguson Subaru Loves the Birds and Bees! - Cheryl C
Ferguson Subaru in Broken Arrow, Oklahoma, is all about helping the small nonprofit Friends of Blue Thumb spread the word about taking care of our pollinators in Tulsa County, Oklahoma! A $500 grant enabled Friends of Blue Thumb to support the Tulsa County Conservation District's brand new "Yard by Yard" community resiliency project. "Yard by Yard" recognizes landowners and their properties that have nature friendly practices. By growing some of their own vegetables, composting, and offering feeding and watering stations for birds and other small wildlife, Tulsa residents (plus those from Broken Arrow, where Ferguson is located, and other Tulsa County cities) can do their part to make urban areas less formidable to birds, bees, butterflies, and other small creatures who need a helping hand. There are an array of additional practices to consider as well. One of the most important actions "Yard by Yard" participants are taking is the establishment of native plants on their properties. Where wildflowers and native grasses are allowed to grow, bees and butterflies find a good meal. These bees and butterflies are the same pollinators that help to keep the foods we need growing, as up to 1/3 of all fruits, vegetables, and nuts require insect pollination. Urban areas can be an impediment to pollinators, but people can make important adjustments to help these important tiny animals. "Yard by Yard" is an important resource for learning about urban conservation practices. In addition to being a food source for pollinators, native plants have deep, fibrous root systems that build healthy soil. Rain falling on a yard with areas of native plants will tend to soak into the earth, following these deep root systems. So native plants reduce flooding and even help to filter pollutants out of water. Every newly certified yard sports a cool educational sign that guides those passing by to consider how they might make changes so that their yards too can "make the cut." "Yard by Yard" participants are given two packets of wildflower seed; one packet for their own yard; and a second packet to give to a friend or neighbor so the project will continue to grow. More can be learned about "Yard by Yard" by visiting www.tulsaccd.org/yardbyyard. Participants have access to a form containing a series of urban conservation practices across four categories. This gives homeowners and renters alike the opportunity to choose the practices that most appeal to them. In a nutshell, "Yard by Yard:" feeds bees. butterflies and birds; produces nutritional food; encourages water to soak into the earth; reduces flooding; filters runoff; brings interesting small wildlife into the yard; and ultimately saves time and money when lawn chemicals are eliminated and short-mowed turf grass areas are reduced. "Yard by Yard" is now spreading across Oklahoma, and the $500 grant provided Ferguson Subaru helped to make this happen. (Photograph Caption: Gabriael Parker (Tulsa County Conservation District), left, and Cheryl Cheadle (Oklahoma Conservation Commission Blue Thumb) prepare to present a beautiful Yard by Yard educational sign to an excited Yard by Yard participant in Tulsa Oklahoma.)
---
Subaru Loves Pest - Jana P
The Tulsa SPCA has worked with Ferguson Subaru for the past several years to execute the Subaru Loves Pets adoption event. Ferguson Subaru has always been very helpful to help us make this event the most successful. Without their support, the event would not be as successful and not as many pets would get adopted! We appreciate their commitment to the community and partnership with us each year!
---
Ferguson Subaru helps homeless youth stay warm - Brian Y
Thanks to the generosity of Ferguson Subaru in Tulsa, Oklahoma, dozens of young people experiencing homelessness will receive new blankets to help them through the coming winter months. Ferguson Subaru delivered several cases of new blankets to Youth Services of Tulsa on November 13. Youth Services of Tulsa (YST) will distribute those blankets to the teens and young adults who turn to its innovative Street Outreach program for assistance with basic needs and resources to help them exit homelessness. Eric Jellison of Ferguson Subaru coordinated the blanket donation. Brian Young of YST thanked Ferguson Subaru for the generous gift, saying "Imagine living outdoors during an Oklahoma winter without warm clothing and a blanket to block the wind. Ferguson Subaru's donation will help many young people stay warm during the cold nights ahead." More about YST: Youth Services of Tulsa (YST) is a nonprofit organization assisting young people ages 12-24 throughout Tulsa County. YST offers a continuum of care through 15 programs focused on four key areas: Runaway and Homeless Services, Counseling, Delinquency Prevention, and Youth Development. YST is the only agency in the area dedicated solely to the needs of teens and transition-age youth. Visit www.yst.org to learn more.
---
Saving Lives with Subaru - Amber N
Working for a non-profit animal rescue organization, Animal Rescue Foundation of Tulsa was so excited to be hosted for an event at Ferguson Subaru. The staff was excellent, caring, and went above and beyond to get the word out about homeless and unwanted pets coming to the event, needing forever homes! During the event we had a bonded pair, Chia and Almonds, adopted! We also received several applications on animals seen at the event and due to them hosting us, it looks like together we will be continuing to save lives and place then with loving families thanks to the exposure of the event! Thank you so much Subaru!
---
We Love All Things Subaru! - Stephanie S
Our Subaru story began last year when we knew our family was in need of a new vehicle. We had narrowed our decision down to a Subaru because of their impeccable safety and maintenance record! Everyone we knew that had a Subaru loved their vehicles! A friend of ours had bought an Impreza at Ferguson and had nothing but good things to say about Ferguson and his experience. We decided to visit Ferguson and meet with Michael Altman, who had sold our friend his car. From that first visit at Ferguson, our family was welcomed with kindness and respect. We were looking to buy either an Ascent or Forester. While we were trying to decide on which vehicle, there was never any pressure from Michael, which was great! He answered all our questions, showing us the different features of the two vehicles. After several test drives, we decided to purchase a 2019 Forester. The whole buying process went smooth and easy! Art, in the finance department, was so friendly in explaining the purchase process and warranty information. Again, we were treated with kindness and respect. The service department at Ferguson continues to treat us with the same kindness and respect that began day one of our Subaru story. The service department is very knowledgeable and efficient in getting our vehicle serviced and on our way. Ferguson cares for their customers and it shows in every aspect of the dealership! After we purchased our Forester, we began to learn more about Subaru and the different platforms they support: learning, Earth, pets, helping others in the community, and caring for those with illness. That support goes down to the dealership level and as a Subaru owner it's great to know that our purchase helped fund these different platforms in our area. It's been almost a year since we bought our Forester and we can say she is well loved! We named her Phoebe. She has been on many road trips to 12 states and traveled almost 24,000 miles. Phoebe has her own Instagram account @phoebetheforester which shows her many adventures and our love for all things Subaru! Jeremy and Stephanie Steely Owasso, OK
---
Ruts N Guts 2019 - Tanner C
We had our 10 year anniversary this year, and it was a great one! One sponsor that has been with us since day one was Ferguson Subaru! We have loved partnering with such a great dealership. Not only do they sell amazing cars that appeal to our outdoor minded racers/riders, but they support their local community, events, and people organizations within the community. We love the brand, dealership, and support they give back here in Oklahoma! Thank you to our Ferguson Subaru Family for 10 amazing years!!
---
Blizzard Bags Delivered by MOW & Subaru - Shanna H
The Subaru Outback donated to Meals on Wheels of Metro Tulsa by Ferguson Subaru was used to deliver 80 shelf stable emergency meal kits called "Blizzard Bags" to be used by recipients in case of inclement weather. The kits were made using supplies that were transported from the Meals on Wheels office to a local church using the vehicle. The church hosting the packing event included 30 volunteers who made the emergency meal kits that were later distributed to MOW recipients.
---
MOWMT & Ferguson Subaru Share The Love - Shanna H
Through Subaru of America's annual Share the Love Event, Ferguson Subaru has been proud to partner with Meals On Wheels of Metro Tulsa
---
Tulsa Bands Together During Walkout - Lauren D
Meals on Wheels of Metro Tulsa used our Subaru to deliver ice to Hunger Free Oklahoma feeding sites that were open and operated by TPS cafeteria and nutrition staff. The sites are serving meals and providing activities for students during the walkout. Sites without refrigeration options used the ice to keep breakfast, lunch, and snacks cold for students during the day.
---