The 2021 Subaru Love Promise Community Commitment Award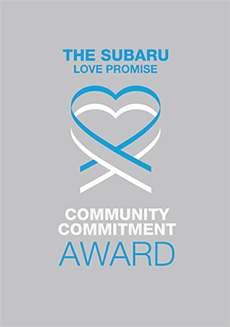 We've been nationally recognized for our dedication to our community and the Subaru Love Promise.
We're honored to receive the 2021 Subaru Love Promise Community Commitment Award. This award nationally recognizes Subaru retailers who are making the world a better place while demonstrating an outstanding commitment to supporting passions and causes in local communities. These efforts are focused in important areas such as the environment, community, health, education, and pets.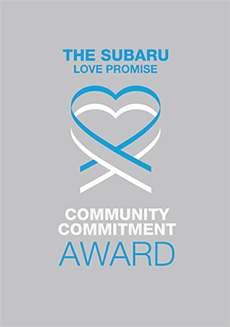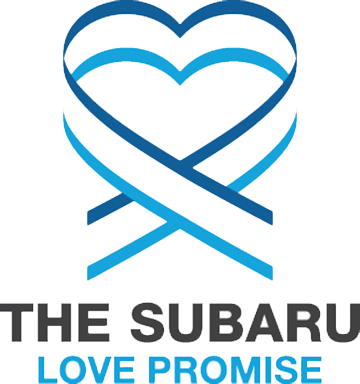 What is the Subaru Love Promise?
Subaru and our retailers believe in making the world a better place and the Subaru Love Promise is our vision of respecting all people. This is our commitment to show love and respect to our customers and to work to make a positive impact in the world.
How is Ferguson Subaru dedicated locally to the Love Promise?
Our Love Promise can be seen in various partnerships with local charities and non-profits. We're grateful for the opportunity, not only to be a part of our community, but to serve it as well.
Tulsa SPCA, Tulsa Boxer Rescue, Guide Dogs for the Blind, Lone Star Guide Dog Raisers
Linnaeus Teaching Garden, Friends of Blue Thumb
Claremont Elementary, Kendall-Whittier Elementary,
Meals on Wheels of Metro Tulsa, American Red Cross, Amazing Athletes,
The Leukemia & Lymphoma Society, Hope Is Alive
Love Promise Stories from Ferguson Subaru
Subaru and Ferguson Subaru believe in making a positive impact on the communities in which we live and work. We uphold that belief through our Love Promise Community Commitment. Every month, we select inspiring stories from customers and partners from around our area who strive to support our collective commitment and feature them here
Ferguson Subaru Loves the Birds and Bees! - Cheryl C
Ferguson Subaru in Broken Arrow, Oklahoma, is all about helping the small nonprofit Friends of Blue Thumb spread the word about taking care of our pollinators in Tulsa County, Oklahoma! A $500 grant enabled Friends of Blue Thumb to support the Tulsa County Conservation District's brand new "Yard by Yard" community resiliency project. "Yard by Yard" recognizes landowners and their properties that have nature friendly practices. By growing some of their own vegetables, composting, and offering feeding and watering stations for birds and other small wildlife, Tulsa residents (plus those from Broken Arrow, where Ferguson is located, and other Tulsa County cities) can do their part to make urban areas less formidable to birds, bees, butterflies, and other small creatures who need a helping hand. There are an array of additional practices to consider as well. One of the most important actions "Yard by Yard" participants are taking is the establishment of native plants on their properties. Where wildflowers and native grasses are allowed to grow, bees and butterflies find a good meal. These bees and butterflies are the same pollinators that help to keep the foods we need growing, as up to 1/3 of all fruits, vegetables, and nuts require insect pollination. Urban areas can be an impediment to pollinators, but people can make important adjustments to help these important tiny animals. "Yard by Yard" is an important resource for learning about urban conservation practices. In addition to being a food source for pollinators, native plants have deep, fibrous root systems that build healthy soil. Rain falling on a yard with areas of native plants will tend to soak into the earth, following these deep root systems. So native plants reduce flooding and even help to filter pollutants out of water. Every newly certified yard sports a cool educational sign that guides those passing by to consider how they might make changes so that their yards too can "make the cut." "Yard by Yard" participants are given two packets of wildflower seed; one packet for their own yard; and a second packet to give to a friend or neighbor so the project will continue to grow. More can be learned about "Yard by Yard" by visiting www.tulsaccd.org/yardbyyard. Participants have access to a form containing a series of urban conservation practices across four categories. This gives homeowners and renters alike the opportunity to choose the practices that most appeal to them. In a nutshell, "Yard by Yard:" feeds bees. butterflies and birds; produces nutritional food; encourages water to soak into the earth; reduces flooding; filters runoff; brings interesting small wildlife into the yard; and ultimately saves time and money when lawn chemicals are eliminated and short-mowed turf grass areas are reduced. "Yard by Yard" is now spreading across Oklahoma, and the $500 grant provided Ferguson Subaru helped to make this happen. (Photograph Caption: Gabriael Parker (Tulsa County Conservation District), left, and Cheryl Cheadle (Oklahoma Conservation Commission Blue Thumb) prepare to present a beautiful Yard by Yard educational sign to an excited Yard by Yard participant in Tulsa Oklahoma.)
---
Subaru Loves Pest - Jana P
The Tulsa SPCA has worked with Ferguson Subaru for the past several years to execute the Subaru Loves Pets adoption event. Ferguson Subaru has always been very helpful to help us make this event the most successful. Without their support, the event would not be as successful and not as many pets would get adopted! We appreciate their commitment to the community and partnership with us each year!
---
Ferguson Subaru helps homeless youth stay warm - Brian Y
Thanks to the generosity of Ferguson Subaru in Tulsa, Oklahoma, dozens of young people experiencing homelessness will receive new blankets to help them through the coming winter months. Ferguson Subaru delivered several cases of new blankets to Youth Services of Tulsa on November 13. Youth Services of Tulsa (YST) will distribute those blankets to the teens and young adults who turn to its innovative Street Outreach program for assistance with basic needs and resources to help them exit homelessness. Eric Jellison of Ferguson Subaru coordinated the blanket donation. Brian Young of YST thanked Ferguson Subaru for the generous gift, saying "Imagine living outdoors during an Oklahoma winter without warm clothing and a blanket to block the wind. Ferguson Subaru's donation will help many young people stay warm during the cold nights ahead." More about YST: Youth Services of Tulsa (YST) is a nonprofit organization assisting young people ages 12-24 throughout Tulsa County. YST offers a continuum of care through 15 programs focused on four key areas: Runaway and Homeless Services, Counseling, Delinquency Prevention, and Youth Development. YST is the only agency in the area dedicated solely to the needs of teens and transition-age youth. Visit www.yst.org to learn more.
---
Saving Lives with Subaru - Amber N
Working for a non-profit animal rescue organization, Animal Rescue Foundation of Tulsa was so excited to be hosted for an event at Ferguson Subaru. The staff was excellent, caring, and went above and beyond to get the word out about homeless and unwanted pets coming to the event, needing forever homes! During the event we had a bonded pair, Chia and Almonds, adopted! We also received several applications on animals seen at the event and due to them hosting us, it looks like together we will be continuing to save lives and place then with loving families thanks to the exposure of the event! Thank you so much Subaru!
---
We Love All Things Subaru! - Stephanie S
Our Subaru story began last year when we knew our family was in need of a new vehicle. We had narrowed our decision down to a Subaru because of their impeccable safety and maintenance record! Everyone we knew that had a Subaru loved their vehicles! A friend of ours had bought an Impreza at Ferguson and had nothing but good things to say about Ferguson and his experience. We decided to visit Ferguson and meet with Michael Altman, who had sold our friend his car. From that first visit at Ferguson, our family was welcomed with kindness and respect. We were looking to buy either an Ascent or Forester. While we were trying to decide on which vehicle, there was never any pressure from Michael, which was great! He answered all our questions, showing us the different features of the two vehicles. After several test drives, we decided to purchase a 2019 Forester. The whole buying process went smooth and easy! Art, in the finance department, was so friendly in explaining the purchase process and warranty information. Again, we were treated with kindness and respect. The service department at Ferguson continues to treat us with the same kindness and respect that began day one of our Subaru story. The service department is very knowledgeable and efficient in getting our vehicle serviced and on our way. Ferguson cares for their customers and it shows in every aspect of the dealership! After we purchased our Forester, we began to learn more about Subaru and the different platforms they support: learning, Earth, pets, helping others in the community, and caring for those with illness. That support goes down to the dealership level and as a Subaru owner it's great to know that our purchase helped fund these different platforms in our area. It's been almost a year since we bought our Forester and we can say she is well loved! We named her Phoebe. She has been on many road trips to 12 states and traveled almost 24,000 miles. Phoebe has her own Instagram account @phoebetheforester which shows her many adventures and our love for all things Subaru! Jeremy and Stephanie Steely Owasso, OK
---
Ruts N Guts 2019 - Tanner C
We had our 10 year anniversary this year, and it was a great one! One sponsor that has been with us since day one was Ferguson Subaru! We have loved partnering with such a great dealership. Not only do they sell amazing cars that appeal to our outdoor minded racers/riders, but they support their local community, events, and people organizations within the community. We love the brand, dealership, and support they give back here in Oklahoma! Thank you to our Ferguson Subaru Family for 10 amazing years!!
---
Blizzard Bags Delivered by MOW & Subaru - Shanna H
The Subaru Outback donated to Meals on Wheels of Metro Tulsa by Ferguson Subaru was used to deliver 80 shelf stable emergency meal kits called "Blizzard Bags" to be used by recipients in case of inclement weather. The kits were made using supplies that were transported from the Meals on Wheels office to a local church using the vehicle. The church hosting the packing event included 30 volunteers who made the emergency meal kits that were later distributed to MOW recipients.
---
MOWMT & Ferguson Subaru Share The Love - Shanna H
Through Subaru of America's annual Share the Love Event, Ferguson Subaru has been proud to partner with Meals On Wheels of Metro Tulsa
---
Tulsa Bands Together During Walkout - Lauren D
Meals on Wheels of Metro Tulsa used our Subaru to deliver ice to Hunger Free Oklahoma feeding sites that were open and operated by TPS cafeteria and nutrition staff. The sites are serving meals and providing activities for students during the walkout. Sites without refrigeration options used the ice to keep breakfast, lunch, and snacks cold for students during the day.
---
Ferguson Subaru Supports Hope is Alive - Lance L
We at Hope is Alive want to sincerely express our appreciation for Ferguson Subaru's generosity! We are beyond blessed to be selected as the recipient of their "Share The Love" event. Through their support, over 35 residents recovering from addiction will be positively impacted through our Mentoring Homes Program. Our program is heavily dependent on the support of families, individuals and businesses that want to make an impact on the epidemic of addiction in Oklahoma. Ferguson Subaru has taken initiative in helping restore the lives of alcoholics and addicts. Through their love and support, they have shown the men and women in our program that they are worth investing in. From all of us at Hope is Alive, thank you from the bottom of our hearts – you are changing lives!
---
50 Cars for 50 Years - Lauren D
Through the Subaru Love Promise initiative, Subaru of America recently donated an Outback to Meals on Wheels of Metro Tulsa. The donated 2018 Subaru Outback, which will enable staff and volunteers to reach more seniors and serve more meals, was delivered by Ferguson Subaru at their Share the Love Kickoff event. "We are grateful for this unique and generous donation from Subaru," said Calvin A. Moore, President and CEO. "The vehicle will help staff and volunteer drivers reach more people in need and enable Meals on Wheels to continue to build our capacity to serve those in need."Subaru has supported the national Meals on Wheels network for the last nine years through its annual philanthropic event, Share the Love, contributing more than $12 million to Meals on Wheels America and providing more than 1.7 million nutritious meals, friendly visits, and safety checks to seniors.
---
Ferguson Subaru & The Leukemia & Lymphoma Society - Libby K
Ferguson Subaru employees teamed up with the Oklahoma Chapter of The Leukemia & Lymphoma Society to meet with patients at the Oklahoma Cancer Specialists and Research Institute on Friday, July 21st. Subaru employees passed out blankets to more than 35 patients receiving treatment in OSCRI's infusion center. Employees also passed out care cards with notes of encouragement from Subaru customers. It was a great morning of interacting with patients and sharing words of hope and encouragement.
---
OU Graduates with her Guide Dog thanks to Ferguson - Beth A
Of the 7500 students graduating this May 2017 in Norman Oklahoma, only one will be dressed in a custom gown. Laurel Wheeler earned her degree from Oklahoma University in Russian and will be on stage to receive her degree along with her Guide Dog Stockard. She has had Stockard for 7 years and will be retiring her as soon as Guide Dogs for the Blind has the perfect match for her, which is expected this year. Jostens Company which makes the graduation gowns will be making a special custom gown for Stockard to wear. "There is no way I could get around like I do without her", said Wheeler. "Blindness can be isolating it you let it be, and she has helped form friendships. Instead of people looking at me as blind first, and then as a person, she has helped me change the perception of me to a girl with a dog who happens to be blind". Guide Dogs for the Blind cannot raise puppies and provide service animals free of charge to proud Oklahoman's without the financial support of folks like Ferguson Subaru.
---
Championship Car & All Star Dealership - Randall M
We have owned our 2015 Outback for a year and a half. Wow, what a machine! It is without a doubt the finest vehicle we have ever owned, and we've owned a few in our 46 years of marriage. We can't figure out why everyone doesn't own a Subaru. This car is a dream to drive. Being retired, we takes lots of road trips. The Outback is absolutely wonderful on the open road. But the vehicle is only part of our story. The rest of the story is about Ferguson Subaru in Broken Arrow, Oklahoma. These folks are off the chart. They are so friendly, courteous and accommodating. They do what they say they are going to do within the time frame they say they are going to accomplish it. They have an answer for all questions regarding our vehicle. Everyone involved, from the phone operators to the technicians, are so pleasant to deal with. We have never encountered a new car dealership that treats us with tender, loving care like the Ferguson team. Subaru's "Love Promise" has become a reality for us. We are most appreciative and we share our sentiments with our friends and acquaintances. Peering into the crystal ball, we can't see ourselves ever owning any vehicle other than a Subaru! Randy & Elaine McGoffin Skiatook, Oklahoma
---
Lone Star Guide Dog Raisers - David B
Ferguson Subaru was proud to highlight Lone Star Guide Dog Raisers/Guide Dogs for the Blind as their hometown charity in the most recent Share the Love event with Subaru. Ferguson Subaru's¿¿ owner, Jerry Ferguson, presented a check in the amount of $6,145 to Sandi Alsworth, Community Field Rep. for Guide Dogs for the Blind, as four puppies in training looked on. Ms. Alsworth said that money went to help fund the plane rides needed to bring the puppies to be trained in volunteer homes, and when they reach 15 months old to return them to Guide Dogs¿¿ California campus for formal training. Since Guide Dogs are provided at no charge to the visually impaired, donations from grassroots efforts, such as Ferguson's Share the Love event are vital. Ferguson Subaru is proud to partner with Lone Star Guide Dog Raisers to bring greater awareness to our community and associates regarding this vital resource to the visually impaired in Oklahoma.
---
Subaru Loves Learning | School Supply Drive - Ronda K
Dear Ferguson Subaru, I would like to express appreciation on behalf of my staff for the delightful trunk of gifts that were delivered to Kendall-Whittier ES by Fergie the Bear and your gracious staff. The wide variety of school/teacher supplies given by Ferguson Subaru and their customer donors helped defer teacher out-of-pocket cost for classroom essentials. As a Title I school, we don't require that students bring school supplies at the beginning of the year to respect the limited financial situations of many of our families. As a result, we depend on the generosity of our partners in education and the generosity of Tulsa businesses. We are so grateful and blessed to have been the recipient of this year's Ferguson Subaru school supply drive. Please accept our Thank You from my staff and students! Sincerely, Ronda Kesler, Principal Kendall-Whittier E.S.
---
Subaru Loves Learning - Claremont Elementary - Jennifer H
Thank you Ferguson Subaru and Import General Sales Manager Hugh Bickel for supporting Mrs. Hodges classroom at Claremont Elementary in Claremore, OK during the Subaru loves learning event! Your support by Stuffing a Subaru with school supplies is very generous and we appreciate your support!
---
Guide Dogs for the Blind - David A
Guide Dogs for the Blind appreciates Ferguson Subaru in Tulsa for supporting our puppies in training. Guide Dogs currently has 42 active seeing eye dogs in Oklahoma, and each was presented to their person at no charge. Ferguson Subaru choosing Guide Dogs for the Blind as their 2014 Local Share the Love charity means that up to 56 more puppies can be flown to local raisers to start their 2 years of training. Thanks to Jerry Ferguson and their advocate/GSM Hugh Bickel to making more working dogs available with this gesture. This gift they are giving the local community can't be bought, as it takes time and a large volunteer effort to shape these dogs from 2 months of age until they go back for formal training. This gift has a tremendous benefit and on behalf of the visually impaired in Oklahoma, we thank you very much.
---
The Boxer Rescue of Oklahoma - Jill G
Working with Ferguson Subaru over the last 4-5 years has been an amazing experience. Partnering with a business that promotes animal welfare, spaying and neutering, and responsible pet ownership is a blessing in an area where pet overpopulation is so prevalent. Ferguson Subaru is a well known established business so having their support in our efforts goes a log way in our community. Their sponsorships at our events speaks volumes and the entire Ferguson Subaru family goes above and beyond to help promote, not only The Boxer Rescue of Oklahoma's efforts, but other rescue organizations as well. The Subaru brand is so well known as the "Dog Tested, Dog Approved" vehicle so being a part of that as an animal rescue organization has been truly an honor. Ferguson Subaru is doing great work in promoting the brand and helping the community become a better place!
---
Amazing Athletes of Eastern Oklahoma - Michael A
As the organizer of the Owasso Family Fun Fair, I have had the opportunity to work with Ferguson on several occasions. We absolutely love the energy and excitement that they bring to our events, whether through Fergie Bear, prizes they donate, or fun vehicles they bring to the event, they always come through. We couldn't be happier to have an awesome partner like Ferguson to work with and to help make our community events so spectacular!
---
Furgeuson Subaru Supports Tulsa Linnaeus Teaching Garden - John K
At the time I was introduced to Fergie Bear and his sidekick "Cody" I was in charge of Grandparents Day at the Linnaeus Teaching Garden. September 8, 2013 was to be our second Grandparents Day and the objective of the event was to honor Grandparents by inviting them with their kids and grandkids to visit the garden and experience what is was like to be a gardener in the Grandparent's time. Clint approached us and offered his services as Fergie Bear. To be honest we were unfamiliar with Fergie Bear but after researching his background we thought that the younger grandkids would enjoy his presence a and they did, he was a hit. The only issue we had that day was with mother nature, at noon the temperature reached 100 degrees. We had to send Clint home, we were scared to death he was going to have a heat stroke. He wanted to stay but with that temperature and a fully encased bear suit it was "unbearable". In 2014 we pushed the date back a week in order to improve the odds for a lower temperature day, it worked. We also wanted the "bear" to return but we wanted him for the full five hours we were open. Again, he was a hit and it is a tribute to both him and Ferguson Motor to sponsor this great civic activity. The Fergie Bear has a standing invitation for all future Grandparents Day celebrations at the Garden.
---
Ferguson Superstore & Fergie Bear Assist at the Local Fall Festival - Robin P
Two years ago, I reached out to Ferguson Superstore to inquire if Fergie Bear would volunteer at our Fall Festival. I didn't really think it would happen, with us being a small church, especially when I saw some of the awesome places they go to spread hugs and love. But I've always believed you won't get what you want if you don't ask. So, I asked. To my delight, they agreed. And they came back the second year too! Fergie Bear brings such joy to the children. One fond memory I have from his visit last year, was that of a four year old girl who had heard Fergie Bear was coming. Her mother said he was the only reason she wanted to come to the festival. They arrived late, and she almost missed him, but that moment she saw him, well it just melted my heart. No words were needed. It was pure JOY! Fergie Bear made her day. It has been a pleasure working with Ferguson Superstore and Fergie Bear. They deliver what they promise, and more
---
Ferguson Subaru Partners With Tulsa SPCA in an Adoption Event - Terry W
One of the best feelings in the world is when we are able to bring people and pets together for an adopted event. So, it was only fitting when Faith came to the Share the Love event at Ferguson Subaru, and adopted Grumby. It was love at first sight for both the adopter and pet.
---